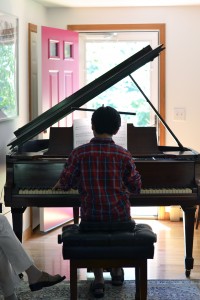 Fred Barton




How do you get to Carnegie Hall?

Practice, practice, practice – and have Sylvia Furash as your piano teacher.

Sylvia Furash taught me piano, theory, musicianship, discipline, professional decorum, and a concept of art from when I first started at age 6.  It was simply a blinding stroke of luck that my mother found Sylvia, and that Sylvia accepted me as a student at that young age.  It didn't just change my life.  It made my life.

Mrs. Furash gives conservatory-quality training at all levels, at all times, and regardless of all the sudden shifts and dramas of a young life.  And her empathetic worldview was my rock and a beacon through all the formative years, both in music and in life.  She is a musician's best friend – and a friend's best friend.

While I was an exceptional student from the beginning, I was still a kid, and she guided my entire musical education with the former in mind but with a complete understanding of the needs of the latter.  She imbued me with a piano technique that has taken me from the elementary school musical play to the stage of Carnegie Hall, and the technique is as eminently suitable for one as the other.

But her training consists of much more than the essential building blocks of piano technique; by training me in musical analysis, and human understanding of the men (and women) who speak to us through their musical compositions of the past and present, she opened a hundred doors and windows into the concepts, potential meanings, and uses of art in a contemporary life – priceless advantages to take with me on my unexpected journey into the exciting (and occasionally treacherous) world of professional music.  And these are advantages that are increasingly hard to find.

Today, after a full career on Broadway, television music, and concert halls, I arrange and orchestrate large pieces for major symphony orchestras around the United States and Canada, and almost every weekend, some major symphony is playing something that came from my mind and pen.  I work everything out both in my head and at the piano.  But every day, without fail, before I begin to work, I play through some piano music, to make sure I'm "connected" with all the musical concepts and awareness which I got from my earliest days with Mrs. Furash.  While it's a worn cliché to say, "She made me what I am," in this instance I can safely say, without the slightest hesitation or hyperbole:  Mrs. Furash and her empathetic, disciplined training in music and life made me what I am.

For that I am extremely grateful, and it was a great thrill to know that Mrs. Furash was in the audience at Carnegie Hall when I made my debut.
Wai-Sa




Mrs. Furash has been teaching piano to my son for almost three years. Since then, my son has improved very much in his technical skills. He now uses techniques such as "rotation, in and out" in his pieces and thumbs up when playing scales; using free fingers and unified arm.

Mrs. Furash is a very responsible and dedicated teacher. She always finds opportunities for her students to perform in public, such as at the Cultural Center, nursing home and Senior Center. By attending all the events, my son gained a lot of experience in his performance. She also attends all her students performances and prepares them by holding a Musicale before each to make sure the students are comfortable and ready for the big day.

I am glad that my son has Mrs. Furash as her piano teacher, and highly recommend her to any parents that want their child to study piano.
Sharon




It has been a dream of mine for many years to take lessons to play piano. I am sixty-eight, never having been trained in any instrument. I have admired the dedication, passion, and talent Sylvia Furash brings to teaching classical piano to learners on all levels and have been encouraged by her to begin lessons despite my age and inexperience. Learning piano with Sylvia has been a complete joy. I am using a text for adult learners for which Sylvia was the consultant. It introduces me to reading music, playing various compositions, and experimenting with the keyboard in incremental ways that are challenging and exciting. The lessons themselves with Sylvia are inspiring. I'm not only learning elements of music—its language, rhythms, patterns; but also body, arm and finger posture and motion; how the piano works, and how to accept my own imperfections as I find my way in a new world. As a teacher and role model, Sylvia shares her knowledge, skill, patience and creativity. With Sylvia, learning piano is a holistic art, engaging mind, body and spirit.
adult student
Brewster, MA
Alan




Sylvia Furash is an incredible human being blessed with musical talent, passion for the piano and teaching her craft to others. I've known Sylvia from her time in New York. As a performer, she is a brilliant technician, a versatile interpreter of a wide range of the literature, and an empathetic partner in chamber ensembles. She has a magnificent way with young students – a combination of being both demanding and loving.  Most important, her  students sense fairness and sincerity.  I taught music in college and public schools – for a total of 35 years  – and as such, I can easily recognize Sylvia's skill in teaching children.

Her young students performing in a program with other piano students stand apart from the other students because Sylvia's possess a clean technic and a stylistically appropriate interpretation.

Beyond her musical passion, Sylvia is a very cultured individual with an outstanding collection of art and books of all sorts. She possesses a wealth of source material for young musicians to learn about the craft of music, and she is most generous in allowing them to share in their richness. In addition, Sylvia is a gourmet chef having a wide array of delectable recipes from which to choose.
pianist/colleague
Hopewell Junction, NY
Linda




I feel very privileged to be a student of Mrs. Sylvia Furash. My grandson and I have been studying with Mrs. Furash for almost two years. She has students of varying levels and ages.

Both Matthew and I have improved greatly since we began our lessons. She encourages us to understand the meaning of each passage, follow the dynamics of the composer and then to play each piece with the passions of our heart. It is not only in playing the correct notes, but to feel the music with your being that you bring the piece to life.

Mrs. Furash is a dedicated, gifted teacher, never letting you get away with shortcuts or mistakes. She has a lot of patience and a deep love of music. When you complete a piece of music, you know that you are playing it the way it was meant to be played and that gives a great sense of accomplishment.

Sylvia is not only my piano teacher; she is my mentor, as well. Learning the piano has taught me many things about life…discipline, being mindful and the enjoyment of the music all around us!
adult student
Yarmouth Port, MA
James and Natalie




Our son has been working with Sylvia Furash for just over two years, and we are astounded with his progress. Sylvia is a fabulous piano instructor. Not only does she cover theory, musicality, technique and performance, but she also teaches important life lessons such as attention to detail, goal setting, and working with purpose.